We provide 5 types of driving license services in Pakistan, the Driving License Verification, Driving License Checklist, Driving License Tracking and Driving License Renewal. Lets discuss first about the procedure for 2023.
Table of Contents
Procedure for Driving license for 2023
Driving license will no longer be issued in Punjab, including Lahore, without biometric verification, according to details. To increase transparency, it has been decided to switch the driving license over to a biometric system. When taking the learning, medical, and license test stages, biometric verification will be completed. According to police officials, NADRA and CRO branches have ties to licensing and service centers.
According to police officials, biometric identification of people with criminal histories will be completed right away. All licensing centers and service centers have biometric equipment. No license may be granted in the absence of a candidate. While licensing centers and service centers were connected to the NADRA and CRO branch, cameras were installed both inside and outside.
Driving license Services In Pakistan
As a law firm in Sialkot, Pakistan, we understand the importance of having a valid driving license. It is not just a legal requirement but also ensures the safety of the driver and other road users. However, obtaining and renewing a driving license can be a time-consuming and stressful process. That's where we come in – we provide a range of driving license services to save both time and money.
1. Driving License Verification:
Before obtaining a driving license, it is important to verify its authenticity. We provide a driving license verification service to ensure that your license is genuine and legally valid. Our team of experts will conduct thorough checks to ensure that your license is not fake or forged. We use the latest technology and methods to conduct the verification process quickly and efficiently.
2. Driving License Checklist:
Obtaining a driving license can be a complex process that involves several steps. To make things easier for our clients, we have created a comprehensive driving license checklist. This checklist outlines all the documents and requirements needed to obtain a driving license in Sialkot. Our clients can use this checklist to ensure that they have all the necessary documents and information before applying for a driving license.
3. Driving License Tracking:
The process of obtaining a driving license can take several weeks or even months. It can be frustrating to not know the status of your application. That's why we offer a driving license tracking service. We keep our clients updated on the status of their driving license application, so they know exactly where they stand in the process. Our team of experts will keep in touch with the relevant authorities and provide regular updates to our clients.
4. Driving License Renewal:
Driving licenses need to be renewed periodically to ensure that they are up-to-date and legally valid. Renewing a driving license can be a daunting task, especially if you are not familiar with the process. We offer a driving license renewal service to make the process hassle-free for our clients. Our team of experts will take care of all the paperwork and ensure that your driving license is renewed on time.
In conclusion, obtaining and renewing a driving license can be a complicated process. However, with our driving license services, you can save both time and money. Our team of experts will ensure that your driving license is legally valid and up-to-date. We provide a range of services, including verification, tracking, renewal, and a comprehensive checklist. Contact us today to learn more about how we can help you with your driving license needs.
Why Choose Us:
Sharif law Associates is a team of lawyers in Sialkot Pakistan. The lawyers of different cities in Pakistan are also linked with them. It's a law firm led by RANA NAVEED SHARIF ADVOCATE. If you find any need for law service but are worried about time wasted in court and katchery. Then without wasting your time to find a lawyer in this time of era, you can find one online and can do discuss your case on a vedio or audio call. We will solve your case without wasting your time in meetings.
Some cases can be totally solved without your time involved, and some need you to be present for some formalities. We try our best to solve the case without your time waste in court and katcheri. So if you need the lawyer to represent you just Watsapp now.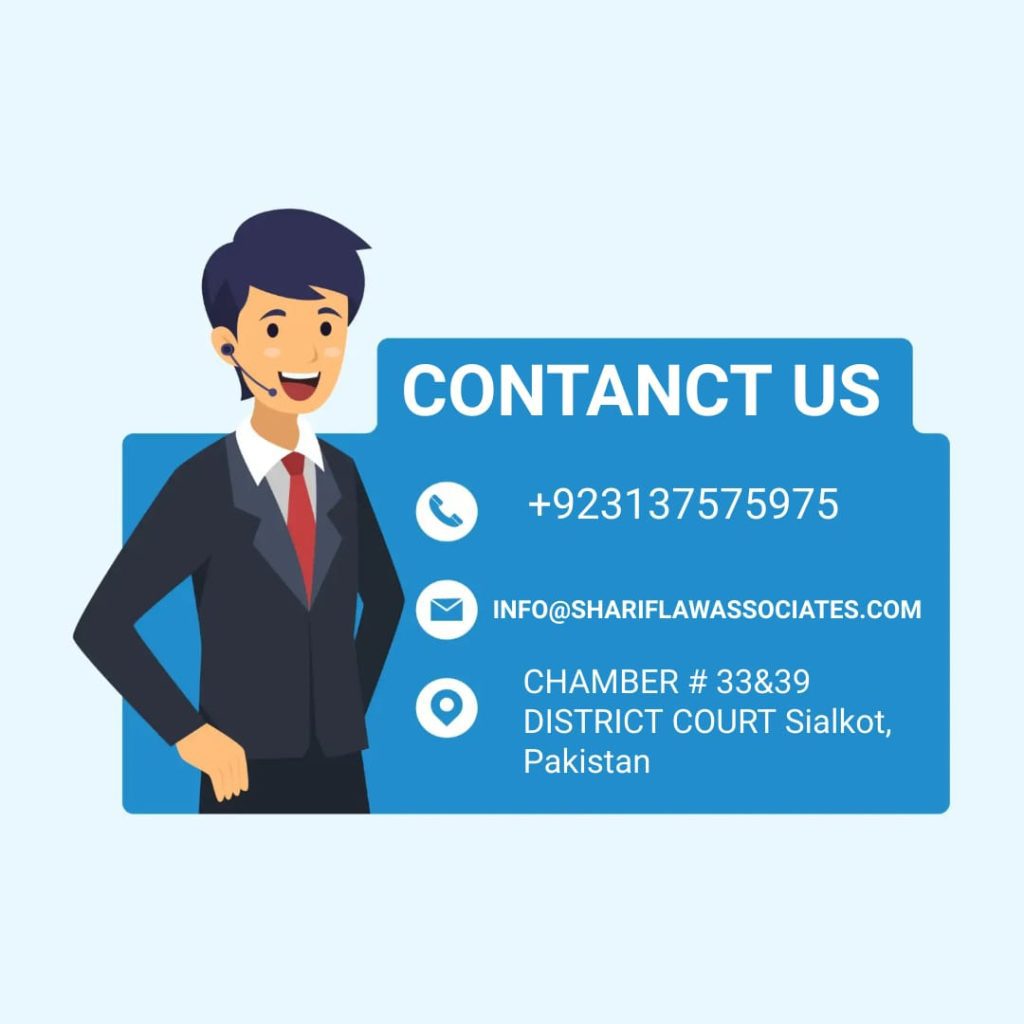 OTHER SERVICES
How to Secure Import Export license in Pakistan
Weapon License Services in Pakistan: A Comprehensive Guide
Crafting a fair Child Custody Agreement In Pakistan: A Guide for Parents
Protect your business with global business verification services.
No.1 IPO Trademark Registration Attorney in Sialkot Pakistan: Protect Your Brand
Company Registration in Sialkot Pakistan: Grab 5 Comprehensive Legal Services
Navigating the Risks of Frauds in Pakistan: How Lawyers Can Help Foreign Companies Succeed
Expert Employment Law Assistance:  Drafting and Reviewing Services by Our Law Firm
Navigating the Marriage Registration Process in Union Council and NADRA, A Guide for Couples in Sialkot Pakistan
5 Background Check Services: Uncover the Truth with Sialkot Law Firm, Pakistan
Marriage Registration in Sialkot, Pakistan: Seize 5 Legal Assistance