Getting Import Export license in Pakistan is now easy. Our law firm do it on your behalf without wasting your time and money in formalities. In this blog you will know about import export license requirements in Pakistan, import export license procedure in Pakistan, and how a best corporate law firm in Pakistan helps you to do this online.
Table of Contents
Due to the need for the nation to strengthen its economy, the Pakistani government has introduced the Pakistan Single Window Act 2021 to encourage people to engage in import and export business. The goal of this law is to make it easier for people and organizations involved in trade and transportation to submit import export license requirements Pakistan, through a single entry point to satisfy regulatory requirements for import, export, and transit in Pakistan without having to submit the same information more than once.
By introducing Pakistan Single Window, the most convenient and time-efficient process for registering import-export licenses has been made available.
Import Export License Requirements Pakistan
The following documents must be submitted in order to process registration on Pakistan Single Window:
In case of;
Proprietor Business
CNIC copy
NTN of Business showing business name and address
Mobile and Email Address of owner
Partnership Firm:
Form C of Partnership
Partnership Deed registered
CNIC of Partners
Authority Letter authorizing any one Partner or official to process application
Mobile and Email address of Partnership Firm
NTN of Partnership Firm and Partners
Company:
Certified copy of FORM II, MOA, AOA and Incorporation Certificate (Incase of new Company)
Certified copy of Incorporation Certificate , Form A, Form 28 and Form 29 (where company is registered for more than one year)
Resolution in favor of any director/CE or official of company to proceed application
CNIC of Directors and Chief Executive
NTN of Company and Directors
Mobile and Email of Company
Import Export License Procedure In Pakistan
You only need to send us the required documentation in order for us to process your application because you deserve the best law firm. Owner/individual or authorized person of entity will only be required to visit the closest E-Sahulat Center for biometrics upon processing of the application for registration of Import Export License in Pakistan. You will receive a special login credential from the customs department within a few hours, at which point you can make as many exports and imports as you like.
Best corporate law firm in Pakistan
Sharif law associates is a law firm in Sialkot Pakistan lead by RANA NAVEED SHARIF ADVOCATE and is linked with different cities of Pakistan. Our team of lawyers handle all type of cases but the most focused one is about corporate law.
Being the best corporate law firm in Pakistan, we have a team of knowledgeable attorneys who not only fully comprehend the legal requirements and procedures, but also treat each case with the care it needs to be successful. Each application is handled with urgency at Sharif Law Associates, so you don't have to worry about the time-consuming process of registering for an import export license in Pakistan because we'll take care of it. Watsapp us now, and also visit our linkedIn and Instagram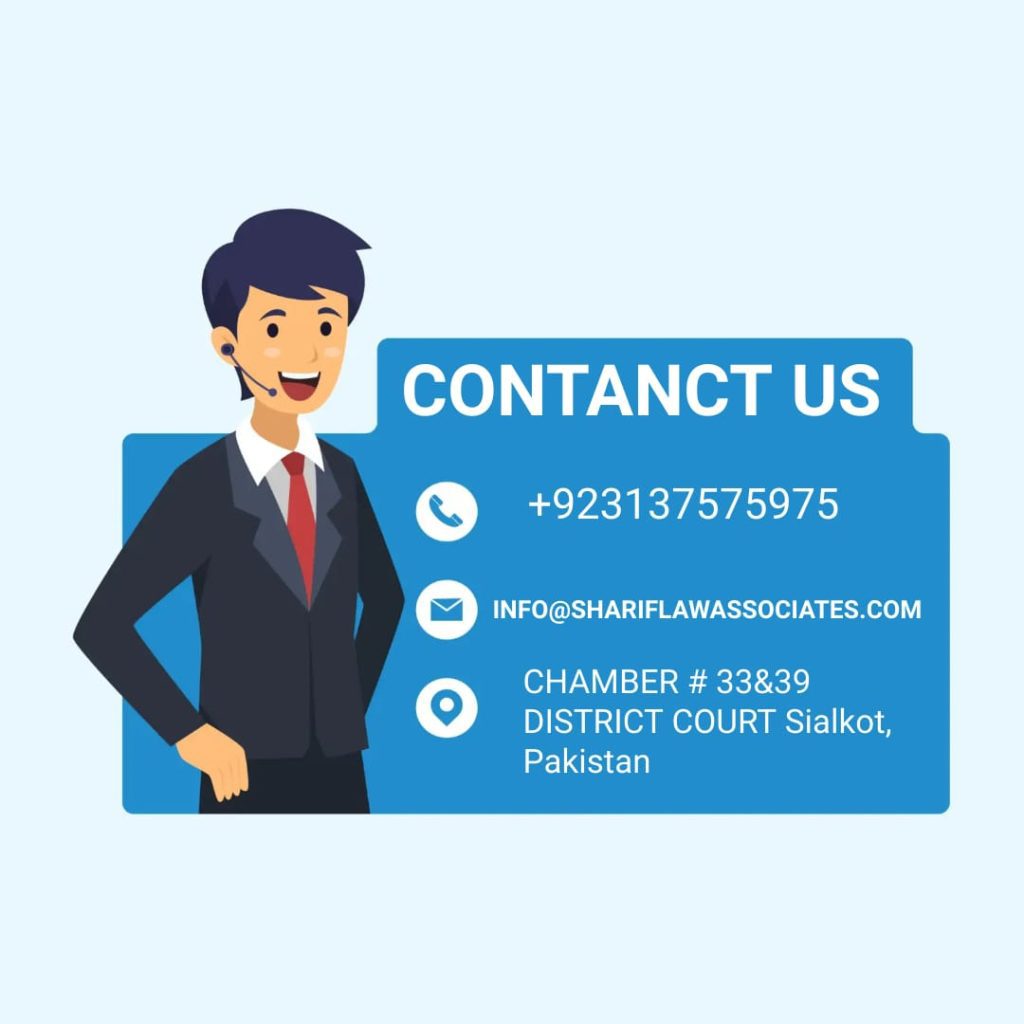 READ ABOUT OUR OTHER SERVICES
Ensure Investment in Pakistan: Unlock Potential of FDI in Pakistan
Effective Corporate Fraud Prevention Services in Pakistan
Why Every Foreign Company Need a Lawyer for Import and Export in Pakistan
Navigating Legal Landscape of Starting a Business:  The Importance of Professional Legal Services
Maximizing Your Tax Savings: Benefits of Hiring a Lawyer for IRS Registration and Digital Tax Consulting in Pakistan
Navigating the Risks of Frauds in Pakistan: How Lawyers Can Help Foreign Companies Succeed
Expert Employment Law Assistance:  Drafting and Reviewing Services by Our Law Firm
Company Registration in Sialkot Pakistan: Grab 5 Comprehensive legal Services
Protect your business with global business verification services.
No.1 IPO Trademark Registration Attorney in Sialkot Pakistan: Protect Your Brand