"Learn about the 7 steps involved in the Trademark registration process and how to overcome any difficulties. Our comprehensive guide to trademark registration in Pakistan. Get expert legal support from us. Contact us now!"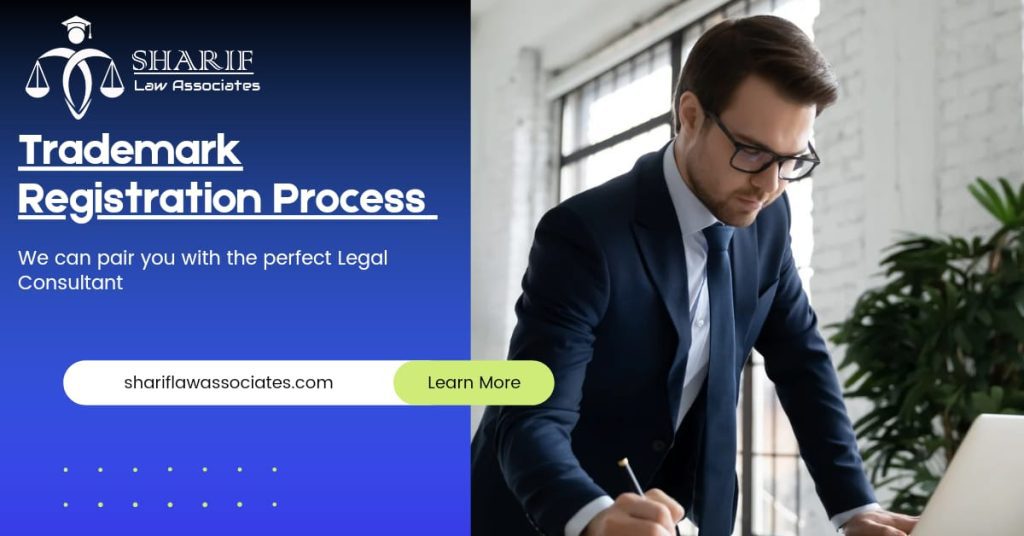 Trademark Registration Process
Trademark registration is a process of obtaining a trademark for a brand, logo, or any other identifier to represent a business or product. In Pakistan, trademark registration is managed by the Intellectual Property Organization of Pakistan (IPO-Pakistan), which is responsible for providing a centralized platform for the registration of trademarks and other intellectual property rights. In this blog, we will discuss the trademark registration process in Pakistan in detail.
Trademark Search

After the Company Registration you have to go through the TM registration. The first step in the trademark registration process is to conduct a trademark search to ensure that the trademark you want to register is unique and not similar to any existing trademarks. The trademark search can be done through IPO-Pakistan's online database or by consulting a IPO trademark registration attorney. This step is crucial as it helps to avoid any infringement of existing trademarks and saves time and resources.
Trademark Application

The next step is to file a trademark application with IPO-Pakistan. The application should include the following information:
✓ Name and address of the applicant
✓ Description of the trademark
✓ Class of goods or services under which the trademark falls
✓ Representation of the trademark in the form of a drawing or image
✓ List of goods or services that the trademark will be used for
Examination of Trademark Application
Once the trademark application has been filed, it will be reviewed by IPO-Pakistan's examiners, who will check if the trademark complies with the legal requirements and if it is not similar to any existing trademarks. The examination process usually takes a few weeks to complete.
Publication in the Trademark Office
If the trademark application is approved, IPO-Pakistan will publish it in the Official Gazette, which is a weekly publication that announces the registration of trademarks and other intellectual property rights. This step is important as it gives other parties the opportunity to object to the trademark if they believe it infringes on their rights.
Objection to Trademark Registration
If someone objects to the trademark registration, IPO-Pakistan will notify the applicant, and both parties will be given an opportunity to present their case. If the objection is upheld, the trademark application will be rejected. If the objection is not upheld, the TM registration process will continue. Our IPO trademark registration attorney can help you avoid any objection that can cause rejection of application.
Trademark Registration Certificate
If the trademark application is approved and no objections are raised, IPO-Pakistan will issue a trademark registration certificate. The trademark will be valid for a period of 10 years and can be renewed every 10 years by paying a renewal fee.
Trademark Maintenance
Once the trademark is registered, it is important to check by the time that no one could use your trademark. If it happens dont be late to IPO trademark registration attorney to protect your TM
How trademark registration attorney Can Help You
While the TM registration process in Pakistan is fairly straightforward, there can be certain difficulties that arise during the process. Following the Trademark Ordinance 2001 Some of the common difficulties include objections from other parties, lack of unique and distinctive trademark, and non-compliance with legal requirements. These difficulties can delay the trademark registration process and cause frustration and financial loss to the applicant. If the application is rejected the trademark will not be approved and you cant get Trademark Registration Certificate.
That is why it is essential to avail legal representation while going through the registration process in accordance with Trade Mark Ordinance 2001. Legal services provide expert guidance and support to help overcome any difficulties that may arise during the process. They can assist in conducting a thorough trademark search, preparing a strong trademark application, and responding to objections or legal challenges.
By availing legal representation, you can ensure that your TM registration process goes smoothly and your trademark rights are protected. Legal services also provide the added benefit of protecting your trademark from infringement and unauthorized use.
At our law firm we offer comprehensive legal representation for trademark registration in Pakistan. Our IPO Trademark Registration attorney is well-versed in the latest laws and regulations of Trade Mark Ordinance 2001 and can assist in every step of the TM registration process. Contact us today to learn more about how we can help you secure your trademark rights in Pakistan.
OTHER ARTICLES
Protect your business with global business verification services.
No.1 IPO Trademark Registration Attorney in Sialkot Pakistan: Protect Your Brand
Company Registration in Sialkot Pakistan: Grab 5 Comprehensive Legal Services
Trade Mark Ordinance 2001: 5 Benefits of Hiring Trademark Attorney is Essential".
Why Every Foreign Company Need a Lawyer for Import and Export in Pakistan
Navigating Legal Landscape of Starting a Business:  The Importance of Professional Legal Services
Maximizing Your Tax Savings: Benefits of Hiring a Lawyer for IRS Registration and Digital Tax Consulting in Pakistan
Navigating the Risks of Frauds in Pakistan: How Lawyers Can Help Foreign Companies Succeed
Expert Employment Law Assistance:  Drafting and Reviewing Services by Our Law Firm
Navigating the Marriage Registration Process in Union Council and NADRA, A Guide for Couples in Sialkot Pakistan
5 Background Check Services: Uncover the Truth with Sialkot Law Firm, Pakistan
Marriage Registration in Sialkot, Pakistan: Seize 5 Legal Assistance
Legal Representation: The 5 Crucial Benefits
Company Registration in Sialkot Pakistan: Grab 5 Comprehensive legal Services